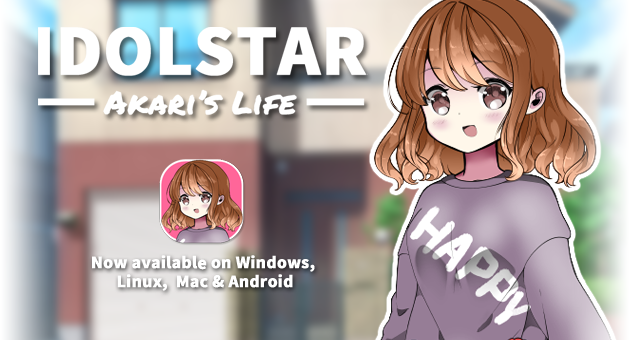 IDOLSTAR: Akari's Life
A downloadable game for Windows, macOS, Linux, and Android
Join Akari's adventure in her house!
Akari Kobayashi, the new idol from PR012, wants to help her producer who is looking for idols. She has the idea of showing pictures of her classmates from her photo album but the pictures are missing, help her finding the pictures in her house and doing an idol's job.
The game features seventeen new characters, five background songs and four minigames that will make the whole adventure of finding pictures way better!
This game is free, but if you donate $2 or more you can support my development and also get a small game called "IDOLSTAR: Akari's Bonus", where you can talk to an Akari with artificial intelligence.
Download
Click download now to get access to the following files:
IDOLSTAR: Akari's Life for Windows & Linux
58 MB
IDOLSTAR: Akari's Life for Android
44 MB
IDOLSTAR: Akari's Life for Mac
41 MB
IDOLSTAR: Akari's Bonus for Windows & Linux
36 MB
if you pay $2 USD or more
IDOLSTAR: Akari's Bonus for Mac
18 MB
if you pay $2 USD or more
Comments
Log in with itch.io to leave a comment.
super cute! kinda confusing lol
Hello! I'm glad you found the game cute. I'm sorry for the bugs you experienced in your video, the version you were playing is not the most recent available. As for how to get pictures, you need to play the minigames and go to work as much as you can, but you will only get pictures if you clear the minigame or get a score above 80% while working. The pictures you get depend on your luck, you can get a new one or one you already had, it's up to RNG and your luck. The pictures you got as outfits were part of a closet you never got to see in-game, they didn't appear in the photo album because they're meant to appear in the closet, not the photo album, just like songs appear in the DVD player and not on the photo album. I hope this clear up the confusion and you have fun next time you play this or any other game I make!
Is it okay if I do a let's play? Or a walkthrough video, developer?
I would love to watch it! Just don't forget to link people to this page in case they want to try it